Addison Montgomery should have learned a thing or two from Meredith about what it's like to have things stolen, but if she did, those lessons didn't transfer over to Kate Walsh ... who I saw in the Express this morning has stolen my haircut! Sorry Kate, I had you by a month. :)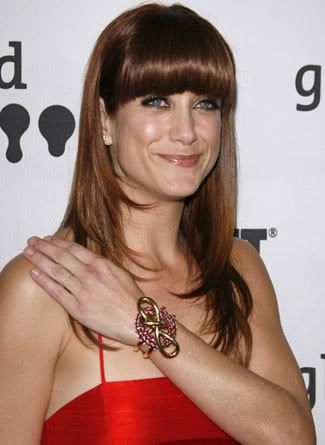 According to this blog last month, not many people are liking it on her. If you believe these people, then lucky for Walsh it's confirmed here that they are just part of a wig.
No hairpieces here ... I have the bangs for real. I still like them (and Kate Walsh's for that matter, though hers are pretty thick), but I'm definitely not looking forward to growing out process when that time comes. If only we all could have stylists changing our look up for us on a whim.
NOTE: After watching tonight's episode of "Grey's Anatomy," it is ALL I can do to not rewrite my headline ... and the whole premise of this blog ... because that horrible wretch does not deserve her name anywhere near my blog. WHAT A DUMB BITCH! But I won't ... I'll leave it true to what it was.
5.17.07 - 10:17 p.m.